Exploring Sexual Landscapes
Posted January 31, 2018
By Don Lucas and Jennifer Fox
Although we have been tasked with announcing the publication of Noba's first human sexuality modules, talking about sex often makes people feel—uncomfortable. We certainly do not want to make you feel uncomfortable, so let's ease into our conversations about sex by first talking about something else.
Hmm.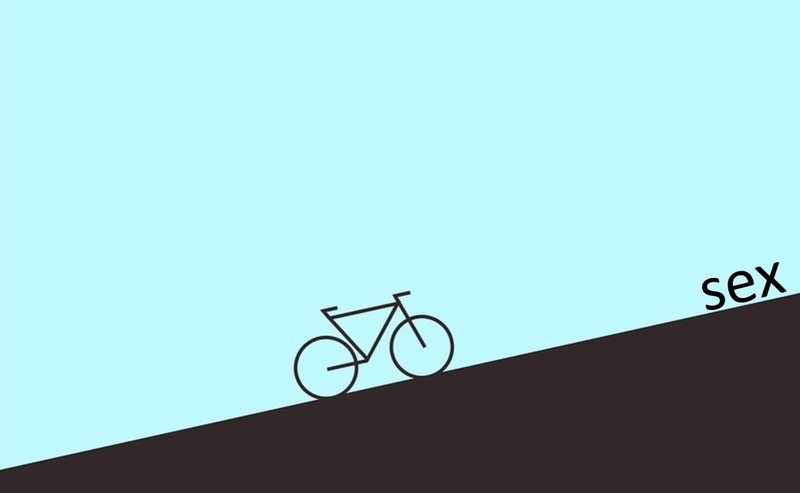 How about we begin by talking about…cycling? Colorado. And mountains.
Cycling down one of Colorado's tallest mountains, Pike's Peak, and its 14,115 feet of elevation, is both daunting and awe-inspiring. Imagine yourself doing it. Now put yourself back atop Pike's Peak with a person named Avery by your side. Avery is eager to cycle the 156 steep turns that compose one of the highest roads in the world. But before descending, Avery turns to you, and says, "This is my first time ever riding a bicycle."
You exclaim, "You're about to ride down the side of a mountain without knowing how to ride a bicycle!?"
To which Avery replies, "My parents become mute every time the subject of bicycling is broached, my religion says it's only for making more bicycles, and my school just says, 'don't ride;' but I've learned about bicycling from my friends, who are endlessly talking about it, and I've watched hundreds of hours of videos on the Internet about it—so I think I'm pretty prepared."
"Oh, by the way, do I need a helmet; and where do I put my feet?"
…
Much like cycling down a mountain without ever riding a bike before, today's sexual landscape is daunting, awe-inspiring, and filled with people completely unprepared for it. Harassment, sexting, unwanted pregnancies, safer sex, same-sex marriages, online dating, sexual consent, HPV, virtual love, gender nonbinary, and Netflix & chill—are parts of this complex sexual landscape, yet few people are properly educated to negotiate it. (Only a small minority of K-12 schools offer comprehensive human sexuality programs; whereas, a significant number of schools offer abstinence-only sex education programs, Guttmacher Institute, September 2017.)
To facilitate people's abilities for fully exploring their own diverse and ever-changing sexual landscapes, we are pleased to announce the publication of two new Noba modules, The Psychology of Human Sexuality, and Human Sexual Anatomy and Physiology.
The Psychology of Human Sexuality examines the history of scientifically studying sex, sexual consent, sexual behaviors, biological sex, gender, sexual orientation, and definitions of normality. Human Sexual Anatomy and Physiology examines sexual anatomy, sexual response cycles, the brain and sex, pregnancy, birth control, sexually transmitted infections, sexual dysfunctions, and treatments. On their own or combined, these modules provide fundamental overviews of human sexuality.
Since sexuality is a basic driving force of human behaviors, these modules are relevant across all psychology courses. But they are especially relevant for introductory psychology. For example, the American Psychological Association's publication, Strengthening the Common Core of the Introductory Psychology Course, recommends topics concerning human sexuality be incorporated into introductory psychology courses, so students can address such questions and societal concerns as: "The tendency for both medical professionals and the general public to asexualize people with physical disabilities," "What are the ethical considerations of conducting sexuality research?," "Paraphilias," and "How can psychological research on sexuality improve people's lives?" (American Psychological Association, March 2014, p. 34). Further, a review of the most popular introductory psychology textbooks found 90% of them significantly address human sexuality topics; and more than a third of them devote an entire chapter to human sexuality (Harrison et al., October 2013). Lastly, if you will allow us to be personal for a moment, in our combined 42 years of teaching, we have taught hundreds of topics within dozens of different psychology courses. And without pause, we both can say, no topics have had greater impacts on our students than topics concerning human sexuality.
We hope you enjoy reading The Psychology of Human Sexuality and Human Sexual Anatomy and Physiology as much as we enjoyed writing them. We look forward to any questions, comments, or concerns you have about these modules. And we are excited about the potential of your students gaining information that will better allow them to navigate their sexual landscapes.
Don and Jen
Editor's Note
These wonderful new modules are accompanied by an equally wonderful set of instructional materials, which includes a comprehensive instructor's manual and integrated PowerPoint presentation, test questions, reading anticipation guides, and an adaptive student quiz. Instructors can access these resources by scrolling to the bottom of each module or by visiting the Instructor Resources section of the Noba website.
Bios
Don Lucas is a Professor of Psychology and Coordinator of the Psychology Department at Northwest Vista College in San Antonio, Texas. His teaching over the past three decades has earned him a number of accolades, including the Minnie Stevens Piper Professor Award. He is the author of Being: Your Happiness, Pleasure, and Contentment.
Jennifer Fox is an Assistant Professor of Psychology and Advisor of Psi Beta at Northwest Vista College in San Antonio, Texas. As a Human Sexuality Educator and a mother of a spirited 7-year-old daughter, she is passionate about promoting sexual literacy for all ages.
References
American Psychological Association (March 2014). Strengthening the common core of the introductory psychology course. Retrieved from https://www.apa.org/ed/governance/bea/intro-psych-...
Guttmacher Institute (September 2017). American teens' sources of sexual health education. Retrieved from https://www.guttmacher.org/fact-sheet/facts-americ...
Harrison, M. A., Zobler, J. E., Brelsford, G. M., & Koser, M. S. (October 2013). Is introductory psychology asexual? The General Psychologist. Retrieved from http://www.apadivisions.org/division-1/publication...